In the course of his fresh career, Antwerp based furniture designer Dries Otten (°1978) developed a singular, playful visual language. He talks about the long and winding road towards the craft and reveals a couple of inspirations: Belgian post WWI designers, but badly drawn stripes?
Dries, when did you decide to become a furniture designer?
When I was young I wanted to be an artist. Not a designer. Art, to me, was painting. So, I painted. In the cold of my bedroom, with both windows open, I painted myself into a trance with oil paint and white spirit. Good fun. But painting was too radical a choice of serious study. It's not an easy medium and I'm not that great at drawing, so I opted for the restoration of paintings. After a year or two, I worried about the professional life of a renovator. You're always inside. Your work always serves someone else's. The better you are at your job, in fact, the less visible your work. I decided to get my degree to keep my parents happy and look elsewhere afterwards.
Did you have any idea where to look?
No, not really. I took all my savings and I went to France. People from my hometown had a bed and breakfast, a fixer-upper. So there I was, renovating a house with four other guys. I worked my way through the winter, did reception during the season and had, basically, a great year. Back in Belgium, though, I still had no clue. I was odd jobbing for a while and then I landed a gig with a furniture designer, building exhibit displays for a fair in Paris. Late night, in a roadside restaurant, I told him I'd been making a table. By the time we came back from Paris, I got a job.
For about half a year, I worked at his workshop, sanding. Pretty boring, but I learned how to operate big machines. Gradually, it became clear: I wanted to design and create furniture. I went on to study interior architecture. And when I graduated, I applied with big names in the industry: Werner Aisslinger in Berlin, Andre Verroken in Flanders. But, looking back, it was rather clumsy. My world was pretty small and I had no real plan. I had no urge to find a job, I was working in a video rental store. And there was my workshop, where I had six and a half days each week to experiment with furniture.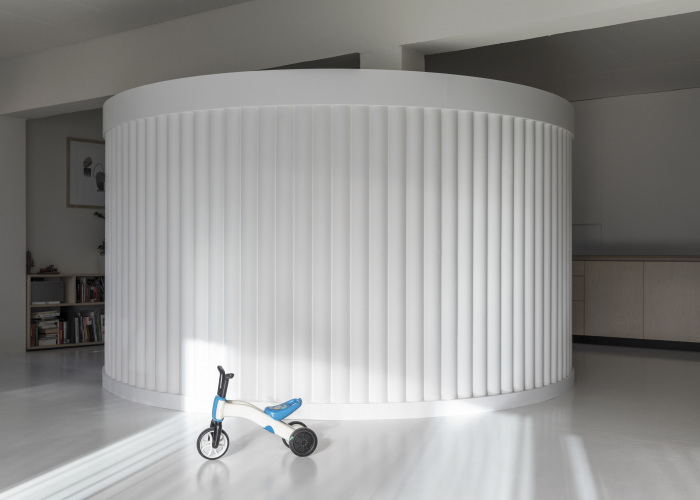 From your workshop to B-architects, how did you make the jump?
I'd applied unsuccessfully with B-architects two or three times. But at some point, they were looking for a scenographer for the MAS museum in Antwerp. Third or fourth time lucky, I guess, because I got the job and I stayed on the team for three years. I did exhibitions, the bookstore of the museum of photography, an opera decor, Museum M… Nice projects, nice venues. Soon, I started working part-time, to focus on my things: furniture and small exhibitions.
And that's what you're still doing as a freelancer?
Nowadays, it's mostly private clients and less exposition design. The big projects have advantages; you can go more conceptual, there are no warranty issues, there is less involvement with long-term stability, etc. For an upcoming exhibition, I worked with corrugated sheets. In a residential context, you usually don't use those.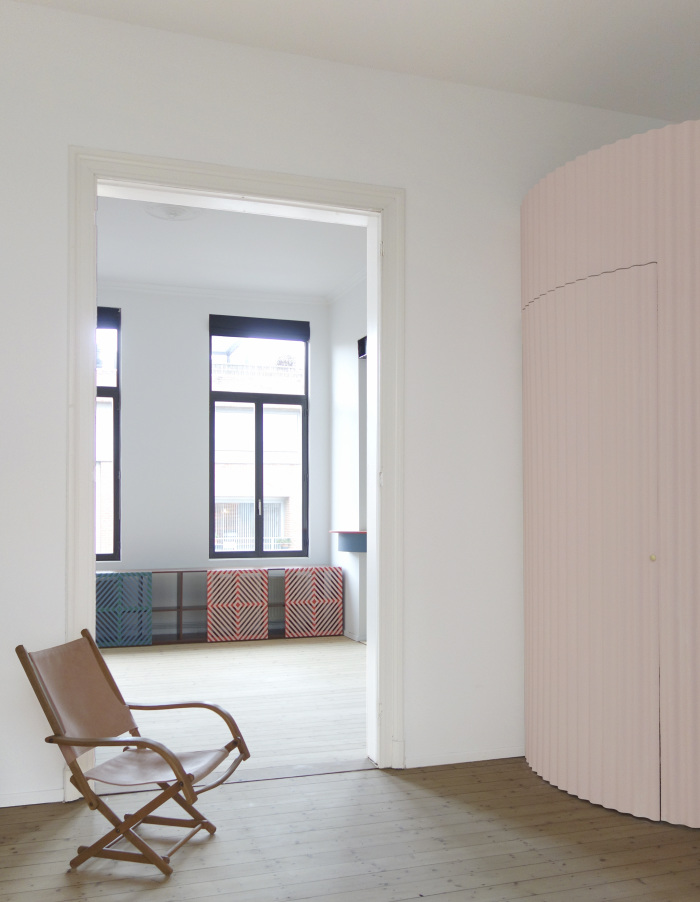 Does the public work influences the private?
It's a continuum to me. When objects don't need to be functional, you can get away with more adventurous stuff, of course, so the one thing works as a laboratory for the other, definitely.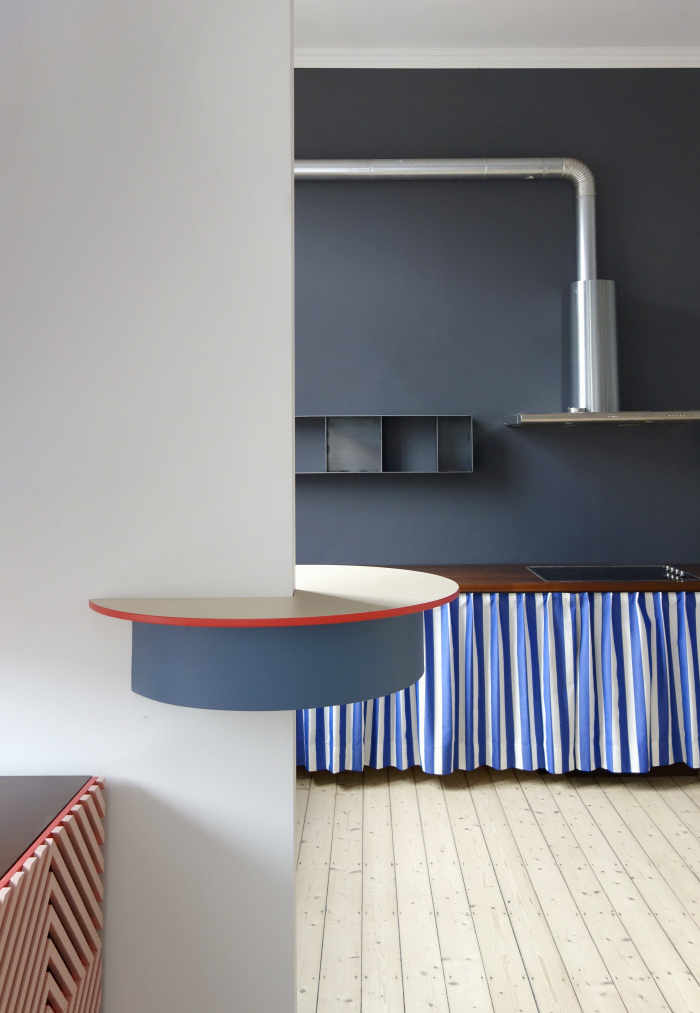 In terms of form and colour, you've developed an idiosyncratic language. Can you tell us about your inspirations?
History, that's the only one thing. Before and after WWI, European furniture design bloomed. It's a super interesting period, I'm especially interested in Belgium and Holland. Architects like Huib Hoste and Karel Maes shook up conventions with avant-garde furniture design. Gaston Eysselinck, for example, made tables with Eternit rooftops. Working with industrial materials is an idea I'm exploring as well.
I'm also interested in 'social furniture'. Antwerp, after the Second World War, had social housing projects designed by Renaat Braem. Young furniture designers were asked to furbish model apartments. It was a close scene with clear principles about the slim furniture. Fascinating. Willy Vandermeeren is a name that pops up, also Piet de Bruyne and Emiel Veranneman. Obscure stuff freaks only (laughs).
Are these things you work with, consciously?
Simplicity is what I take from it. I work with simple things too — a bit of paint, a few elementary materials. If you put those elements in the right order and treat them right, you get amazing results. Their furniture is not about perfection. Charles Eames aimed for that, perfect ergonomics and stuff. These designers were occupied with something else. They were plastic artists, sculptors. They made statements, not comfortable furniture.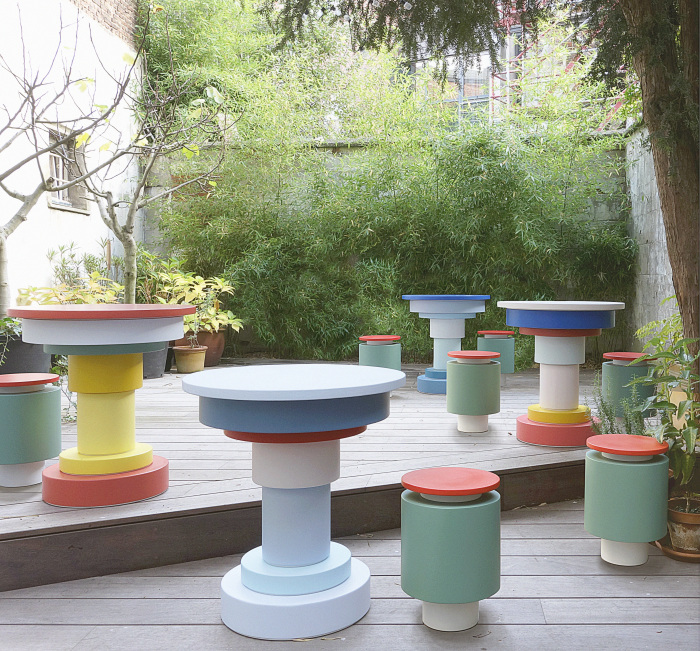 What about inspiration outside the realm of furniture design?
Anything can be an inspiration, really, even a trip to Greece. There's an elegant simplicity over there. Everything is simple. Small windows, roofless shelters, structures to generate shadow, the colours… How daysides of the windows get accentuated. Super simple things. You can do a lot with simple.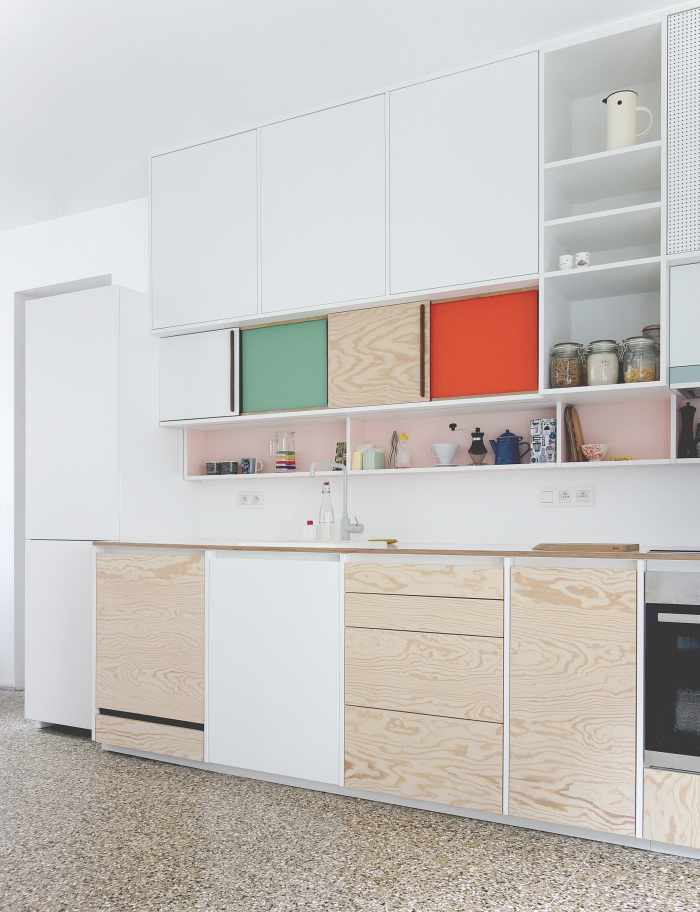 Like?
Today, there's a lot of prestige in modern interior design. And I'm not against prestige, but if it's not connected to creativity, if it's about social status – I can pay for this and you can't – it's of little interest to me. Being creative… There's so much you can do with a set of badly drawn, hand-painted stripes. They have more potential than perfect straights in the most refined material. Although it might be a challenge to convince a client you're going to paint his kitchen in badly drawn stripes… (laughs).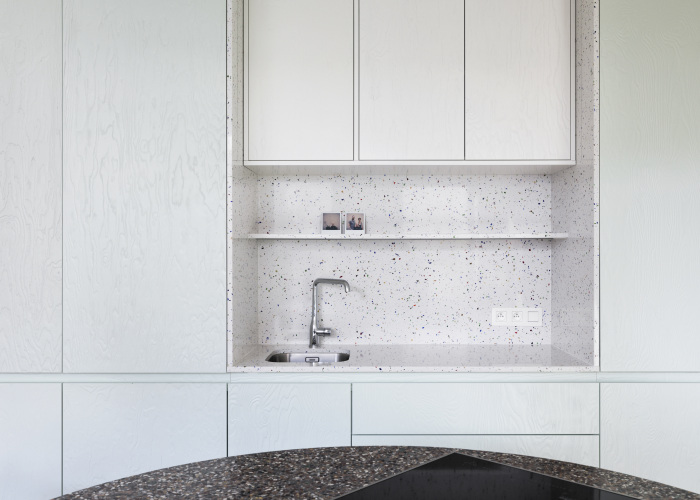 What does your work tell us, Dries, about you as a person?
My work is light and pleasant. Although I'm not… If you'd ask twenty people if they see me as light or pleasant, 'pleasant' might not be the first adjective that comes to mind. But this is my job, I want it to be nice and pleasant. I need playfulness. Come to think about it, there's a lot of myself in my work. I put everything in perspective, mostly to the point where it gets killed. My work takes the edge off. It shouldn't be taken too seriously, there's always a twist.
Discover his work at www.driesotten.be