Pauline is a freelance surface and pattern designer born in Russia and based in Brussels. She moved to Belgium with her parents when she was 10. She studied typography, visual communication & textile design at La Cambre where she graduated in 2007. She creates repetitive patterns for fabrics, wallpapers, home decoration and fashion.
What was your motivation to become a textile designer? Why did you choose this particular medium?
When I was studying graphic design, I realised that I was preparing myself to serve other people's ideas or products or to find new graphical concepts for something I didn't really care about. Textile design, on the other hand, was offering me freedom. I was free to build a whole project from the concept to the final realisation. In this process, you are confronted with technical constraints or matter requirements of course, but it felt even more exciting to find an appropriate way to meet those challenges. In textile design, I felt that I could get rid of the necessity of a meaning.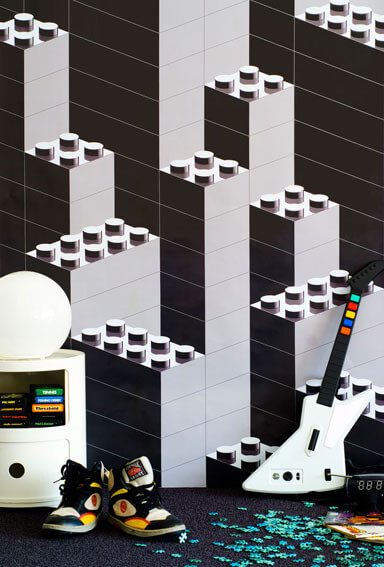 Although I try to create things which make sense, it's nice sometimes to just create something beautiful, just for the pleasure of the eye, isn't it? In the beginning, I naturally focused on repetitive patterns because it was the graphics part of the medium. I was really interested in rhythms and ways to create a drawing which could perfectly match itself on every side. Later I discovered other textile techniques, such as knitting and weaving. I was fascinated by their similarity to architecture: the structure, the tension, the importance of the materials and their properties… Textile design is an extensive field and you never stop learning and discovering.
What is important about your work to you? What is your personal vision for textile design nowadays?
I am slightly upset about the general lack of creativity in the textile and decoration market, especially in home fabrics, wallpapers and above all, in tiling. It seems to me that most brands don't take any risks. They prefer to copy previous styles (or each other), in order to make conventional products which will sell. I understand that they have to take their sales into account, but I think it's a pity that there seems to be so little space for creativity. I think that we are living in such an exciting era; everything goes so fast, the world is permanently changing and it's time for an ornament to have its own revolution. An ornamental revolution similar to those of the Arts & Crafts movement (Art Nouveau), Art Deco or the outburst of ornament during the seventies… I challenge myself to bring all the new ideas and concepts, which already exist in graphic design, illustration and art, to textile design and home decorating.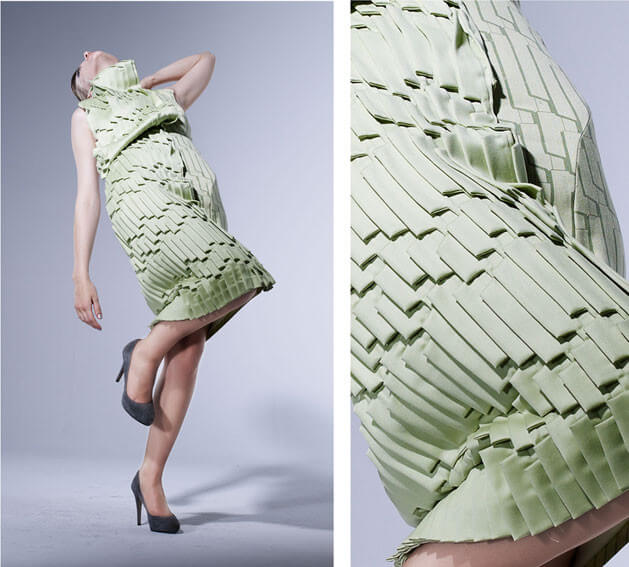 What inspires you?
The 20th and the 21st century in general: space discoveries, internet, the conquest of cell phones, nerdy culture, the computer obsession, all sorts of (online) networking, old-school video games and Japanese robots… Actually, my main inspiration comes from the television, a lot of people say it's boring and stupid, but for me, it's a window to the world.
My favourite channel is Discovery Science as I am fascinated by and all the upcoming technologies like biological computers (crazy!). So, of course, I am a huge fan of science fiction movies, like 'Tron', my favourite, for the costumes and decoration. Most names of my designs come from movies, television shows or science books, like Atomic Circus, Braindead, Eternal Sunshine, Hyperstructure or Path Integral… I watch a lot of cultural magazines on television, like: 'Tracks' on Arte, its full of weird stuff, new trends and unknown artists. All these things mixed together put me in the right mood for new ideas to arise. It's never really precise, each design is usually a mix of several things, and I like it that way.
How do your Russian roots influence your work?
Until now there is no real influence, maybe there will be in the future.
Do you think your education/school had a big influence on your work as pattern designer?
During my studies, I tried a lot of different things in different directions and these experiments were truly important to me. But after those years I definitely found my personal way when I started to create my own collections. During your studies, a lot of people try to motivate you in a certain direction — sometimes even in opposite ways — and it can be quite challenging to find your own way amidst all that. To realise that even teachers can be wrong is a very constructive, self-empowering realisation because that means you finally really know what you want.
Is the type of surface important in the designing process?
Yes, it is absolutely essential. Rhythms, colours and shapes have a different impact on the senses whether they are used on a small surface, such as a cushion, or on a large-scale surface, like a wall for instance. When you create designs to surface a wall, you create an entire atmosphere… The scale of the shapes and the colour impact the atmosphere tremendously.
When you create textile designs for fashion purposes, you also use a different approach because you have to consider the movement of the body, as well as the movement of the fabric. Furthermore, the various techniques of production and their costs are also of main importance during the design process. As a designer, you also have to consider the budget and thus, the number of colours or the possible material effects.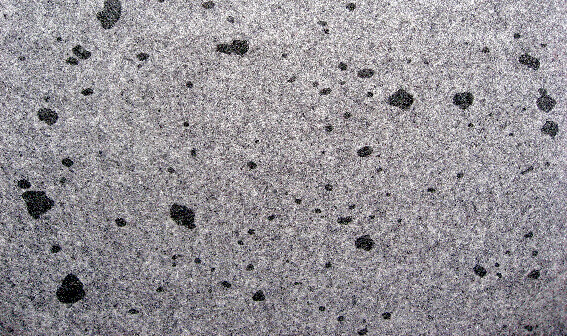 On what kind of project are you working on right now?
Right now I am working on a new pattern collection for wallpaper and upholstery called "Back to the future". It is a circular trip between the medieval canvas figures (pixellated embroideries of animals, plants), and the contemporary archaic icons of computer technology.
Do you have your own studio or do you work at home?
At the moment I work at home, but in a few years from now, I would like my own studio. I really want to direct a team in order to create faster as for now I don't have enough time to realise all my pattern designer ideas.
What are your plans for the future? Any prospects?
Collaborations, for example with the Brussels based textile design studio "Piece of chic". I also have upcoming projects with industrial designers, interior architects and event creators. And, since the design fair in Milan, I am currently dealing with two brands who are interested in editing my designs, but it's really too early to talk about that!
Do you have any tips for young freelance pattern designers?
The best advice I can give is to join forces in a collective. Even if you don't really feel the need to collaborate on projects as a pattern designer. It saves so much time to share contacts, technical skills, office duties and professional prospects with others! Or exhibiting together as a collective increase the overall impact and helps to reach more people. I am alone and sometimes I would like to clone myself!