Lien Geeroms was born and raised in Leuven. She moved to Ghent for a few years to study graphic design and illustration at St. Lucas. After graduating she moved back and settled down in Leuven. She has two sons aged 9 and 12 and is still married to her first love. Lien has been working as a freelance illustrator for 6 years.
Previous I have done a variety of jobs. I was the personal assistant of Machtelt, a fantastic woman who happens to be blind. I helped her with the day to day things that are more difficult when you are unable to see. She paid me for my assistance and she learned me many lessons in life.
I combined this job with DTP work for a little printing company in Leuven that doesn't exist anymore. I had to design 'quite ugly' magazines for farmers. Don't ask.
A big chunk of my pre freelance years was spent as a graphic designer for an organization in Leuven called 'Centrum Informatieve Spelen vzw' (C.I.S., now called 'De Aanstokerij'). Their core business: playing and learning something in the process. Needless to say, this was a very playful and cheerful environment.
Lastly, I was an employee of 'Koning Kevin vzw' for a very short time. My main task was to tend their little yellow castle. This job made apparent that I'm not cut out for a job with no design element to it whatsoever. It was the kick in the but I needed to take the leap and start as a freelance designer and illustrator.
What made you decide to switch from in-house designer to freelance illustrator?
Illustrating was what I wanted to do when I embarked on my St. Lucas adventure. I didn't have a clue what 'graphic design' actually was. I just wanted to do 'something with drawing' and the description of this field of study – graphic design and illustration – in the school brochure, seemed like a rather good fit to my 19-year-old self.
After graduating it proved to be difficult to make a decent living as an illustrator and easier to find a job as a graphic designer. I always kept illustrating 'on the side' and tried to squeeze in some illustration work when I worked on a project in need of imagery.
My decision to change jobs, leave C.I.S. and go work for 'Koning Kevin' was because I felt a bit restless, in need of something new. When that new job as some kind of 'Jill-of-all-trades' in charge of a little castle, felt like a wrong path, I had the nerve and confidence to put my fear of poverty and lack of independence aside and commit to a career as a freelance illustrator. Fear of poverty because I knew it wouldn't be easy to match up with my monthly paycheck right from the start.
Fear of a lack of independence because I would have to depend on my husband for the steady income that was needed to provide for our family. Clothes, food, water, electricity, a mortgage, … It isn't easy to survive on – mostly – one income. It was not the obvious choice for a girl that was thought to care for herself (= my mother's influence) and think about her pension (= my father's influence) 🙂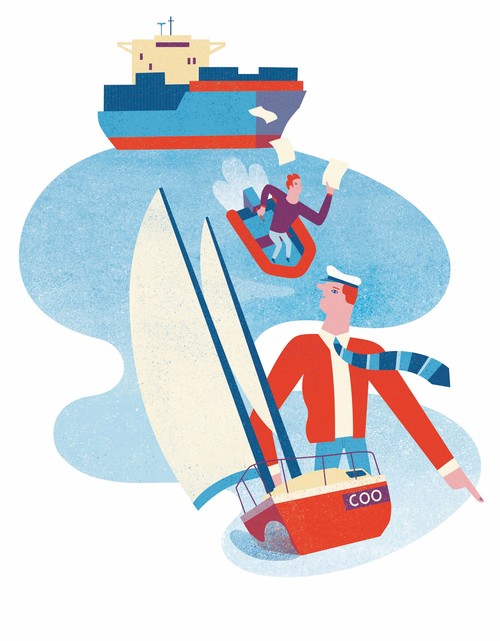 Without the support, both financial and moral, of my husband, I don't think I would have been able or willing to make the switch. In retrospect, I do believe that my whole family gained a lot from this switch. Being a freelancer and working from home is an ultra-flexible lifestyle. My boys have a very present mother. That is a 'present' in this day and age. My husband doesn't have to stress about school holidays, a sick child that can't go to school, hobby-taxi-driving on Wednesday afternoons, making dinner, etc… And I get to focus on my illustrations and do what brings me joy in the daytime – and evenings if necessary – when I have the house to myself.
As the years pass by, my skills, client base and income are growing. Slowly but steady. In my dreams, I'll be able to provide for my husband when we are in our fifties.
What are the 5 most important things you learned during your career as a freelancer?
Be patient. Things will work out if you…
Work very hard and go the extra mile. Your skills will grow and benefit from it.
Be friendly and correct. People count on you.
Think along with your client. Sometimes that means: don't just do what they ask – you are the skilled professional with answers they might not know to exist – but ask yourself what they need and try to come up with the best solution.
Know your worth and strive to get paid accordingly.
Insert fun. 'People sense your joy', is a mantra from a tutor of an online course I took. I believe it to be true and it seems to be an important ingredient to some of my best work.
Give us an insight into your work, what is your work process?
I like working with a brief that states some specific guidelines or framework. It triggers my creativity and imagination.
"You can do whatever you want!" Is a worst case scenario for me. "We need a full page illustration for this article about women and orgasms and would like the colour scheme to match with the overall look and feel of our magazine", is more my cup of tea.
When I receive a brief, I let it sink in. I go for a walk, doodle and scribble a bit… Some 'brainless' activity that leaves room for thought. I often joke that I can work while standing in line at the grocery, but there is truth to that.
Ideas pop up and I force myself to sit behind my computer, open up illustrator and put those ideas to 'paper' with my Wacom Intuos. I often google images for reference or flip through books for inspiration. When I'm pleased with the overall composition and colour scheme, I send a first 'proposition' to my client.
Based on the feedback I receive from them, I discuss, tweak and alter until everyone is happy with the outcome. I then finish my vector drawings in detail and often turn to Photoshop, where I bring some texture and shadow into my drawings. My illustrations become more tactile and alive in this last phase.
As I become more experienced, this whole process smoothens and goes faster than when I just started out. That's also a big reason why I don't believe in hourly rates for illustrations.
Oh, and another important ingrediënt in my work process: podcasts. They keep me company and provide useful insights and information… I listen to all the designy topics obviously (Design Matters with Debbie Milman for example), but I try to branch out too (I learned about 'Occam's razor' from Stuff you should know). Lately, I've been listening to a podcast in French: 'Parce que ce n'est pas mon fort'.
What is your favourite kind of work and why?
I like to diversify. Short-term assignments – mostly editorial illustrations for magazines – on a weekly and monthly basis. Uptempo, quick and strong. Intricate projects. Often more complex, made to last and thus more time-consuming. A design for a tin box or a scarf for example. And one or two long-term projects like a series of illustrations for a book or brochure.
That is, however, an ideal situation. Sometimes the work piles up and evenings become longer. Sometimes all is far too quiet and I start to panic a bit, scan the job offers and consider applying for a 'real' job. With a boss. In an office. Working 9 to 5. And then: ping! I've got mail… and all is well 🙂
As said I like the challenge of a brief with some boundaries. It is rewarding when you come up with a nice angle or clever solution and everything falls into place.
I'm born positive, therefore I'm better at the cheerful, humorous scope of topics. But I don't rule out going to the dark side one day (maybe midlife will bring me there).
I do try to carve out time for personal work and have a lot of ideas wandering in my head and sketchbooks. Once in a while – on those slower days for instance – I try to force up a deadline to work out one of those ideas. I wish I did that more often.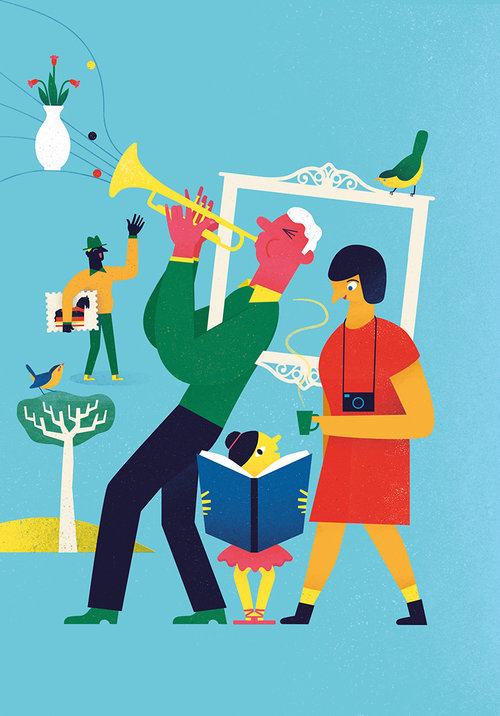 What do you find interesting in illustration?
Creating something is a wonderful feeling. I highly recommend the sense of timelessness when you are in a flow. I suffer from withdrawal if I have to miss it for too long. But why illustration?
I was always someone who liked to express herself with drawings. Most people stop drawing when they grow older. I just kept at it… Maybe all my artistic family members (many musicians and one artistic aunt in particular) had an influence on me as a child. I witnessed that expressing yourself in an artistic way is really gratifying. Luckily my parents never forced me to opt for a 'safe' path. I was free to make my own choices.
Now, further down the line, I find it really satisfying to contribute in transferring a story, message or feeling with an image. We are bombarded with imagery in this digital age, so it is a challenge. However, I think you can still engage people with an image on another level than with words.